Reenactors in the Seminole wars step back in time
At the recent Shootout at Big Cypress held at Billie Swamp Safari in the Everglades, a battle from the Second Seminole war was reenacted. The heart of that experience was the men, women and children who take part in historical reenactments around the state and the nation.

Each different reenactment will likely have some local participants as was the case with members of the Seminole and Miccosukee tribes at Big Cypress. But it is the people who are dedicated to living history that make it truly come to life. They study the characters they will assume for the reenactments down to the smallest detail and for each different event, they become a different person from history.

Just like those they portray, they not only dress in period clothes but live in tents, cook over open fires and have no electricity or refrigeration. They know the history of the era they are supposedly living in and are happy to share that knowledge.

Sadly I didn't get the names of all the reenactors I spoke with but each was a generous storehouse of knowledge.


Seminole on horseback: Swamp Owl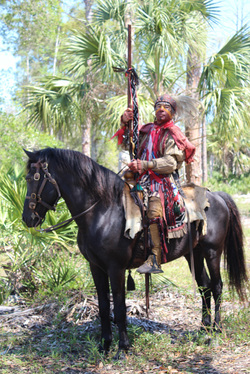 Swamp Owl and his horse Smokey had a leading part of the Big Cypress Shootout reenactment in the Everglades. He has been taking part in reenactments for over 30 years and helped get many of them started. His background includes alligator wrestling and he has both Seminole and pioneer blood in his family.

When he rides up in his full Seminole regalia Swamp Owl oozes confidence and charisma. He is a warrior in the finest sense of the word — one who fights to protect the land and the people.

During the battle he rode at full tilt gripping his gorgeous horse (certainly one of the most beautiful I have ever seen) with only his legs while firing his rifle with deadly accuracy.

His horse is descended from the original horses brought to Florida by the early Spanish explorers. Moses Jumper (see the battle story) raises this breed of horse.


---
Campfire woman: Kathie Watts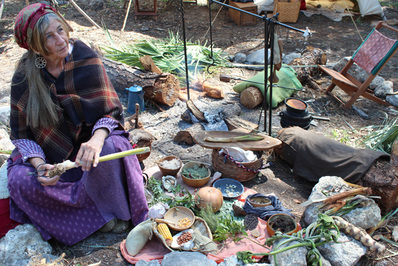 Kathie Watts explains the Indian way of cooking and secret signs
Kathie Watts at the Seminole camp was all set up with a campfire that showed all the native plants she might have been preparing in the 1800s. She offered up chunks of raw cattail root that were surprisingly tasty and showed how in the fall the tops of the cattails were harvested for their fluffy seedpods and then used to line moccasins and even inside diapers.

Kathie's reenactment name is Huti Fuswv (pronounced Fooswa) which is Creek for Birdwoman. She usually has a chicken with her at the camps. She is the keeper of the birds.

She told a wonderful story about how the Indians were often on the attack and on the move. Each campsite had a fire with four good-sized logs arranged north-south-east-west. The logs were big enough for the woman to sit on while she worked.

When the men were out fighting or hunting and soldiers attacked the camp the women and children tried to get away. There was always a "fifth log" right by the fire. If they escaped, they put the log in the fire pointing in the direction they had gone so the men would know where to look for them. If the men came back and the fifth log was still sitting off to the side, they had been captured.

Kathie and her husband Mitchell Brown do reenactments together.


---
Trapper Man: Chris Kimball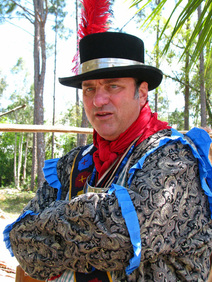 Chris Kimball makes his own outfits down to the elaborate shirts and deerskin leggings. He is from one of the oldest pioneer families in the state and recently published "Seminole and Creek War Chronology" and is a long time Seminole War reenactor. He's also a Florida Park Ranger and has a history website:
www.southernhistory.us
.
At his campsite (shared with the well-known reenactor Jim Sawgrass) there were animal skins, an arrow quiver made from an alligator tail and traps made from thin twigs to catch fish.
Chris has done enactments from Florida to New Orleans and can be found on either side of the conflicts from time to time.
---
Seminole warrior: Jim Sawgrass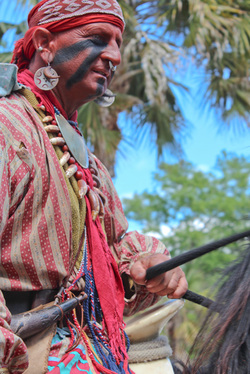 Jim Sawgrass is a member of the Muskogee Creek Indian Tribe and a native Floridian who has been taking part in reenactments and living history programs for over 25 years.
Jim was one of the major actors in the Big Cypress Shootout reenactment.
He founded the Deep Forest Historical Native American Programs in 1988 and has performed in schools, parks, powwows and at places like Disney and Sea World. He took part in the New Orleans Jazz and Heritage Festival and has appeared in movies and television.
Jim served on the Florida Indian Council from 1991-95.
When he is not taking part in living history events, he offers programs to schools on native culture and has a program teaching South Eastern Encampments and a Woodsman Program for advanced skills. Find out more at
www.jimsawgrass.com
.
---
Soldier with a gun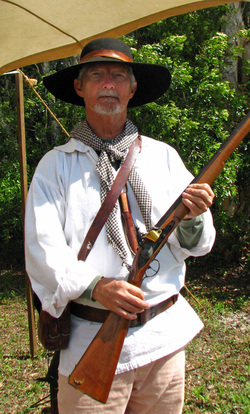 A man and his land cannon," this fellow proudly proclaimed, standing in a pose for me in front of his tent. The gun, he told me, was actually used in trade with the Indians for hides and other goods. It was unique in that it could be used to fire a musket ball or birdshot.
His powder and extra flints were in a bag around his shoulder and his knife was at the ready dangling in a scabbard around his neck.
He was one of men in the camp for white soldiers and their women. Everything down to the portable sets of irons made to put together to form a grill to cook on was authentic. Sorry I am unable to identify him.
For more information about reenactments around the state go to
www.alligatorfest.org
and click on "links" for a list of upcoming events.
A big thanks to Paul Rowley aka Big Turtle for his help with background information on some of the reenactors. Paul is associated with the alligator fest website.
---
© Copyright 2013: text Sue Harrison; photos Sue Harrison & Lee Brock for MyOldFlorida.com.


---