Book Reviews and other bits of information
​My Old Florida offers book reviews and sometimes reviews of movies that range from vintage books that are hard to find to brand new releases. The books could come from mainstream presses, small presses or be self-published. The one thing they will all have in common is a love for Florida in a less manicured state than we often find it today. Like this site, these books will dip into the past and wander through the present always on the lookout for the people, places and things that just seem real.

As each book is reviewed it will become the current featured book and when another is added, the formerly featured book will drop down into a list alphabetized by Title.

In addition to books, there may also be reviews of map systems, apps for trekking, movies and other things that one could use to discover and enjoy Old Florida.

The featured book now is: Angel City by Patrick Smith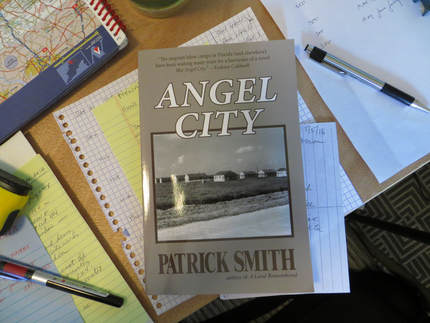 "Angel City" is anything but

Most readers of Florida-based novels or history are familiar with Patrick Smith's "A Land Remembered." Many consider it the quintessential tale of settling the state when it was wild and scarcely populated. In three generations, the family in that book went from dirt-poor farmers to wealthy real estate magnates and learned that as a family they had done much to destroy the very thing they loved.

Smith has written several lesser-known books including "Angel City," the fictional tale of the Teeter family from West Virginia who come to south Florida is the early '70s seeking prosperity and an escape from the poverty of the mountains where they lived for generations.

It seems like such a simple dream. Get to the Miami area somehow and start a little farm out by Homestead in the Redland. Things grow yearround and it will be easy to open a roadside produce stand and sell the bounty of the land and some items the womenfolk and kids make.

It doesn't work that way. A lot of people, facing tough times in other parts of the country have headed south, believing that same easy-living dream that doesn't quite come true. Lots of people are looking for jobs, any kind of jobs. And Jared, his very pregnant wife Cloma, his 16 year-old daughter Kristy and 11 year-old son Bennie soon have little money and are fooled into taking a job picking produce for an unscrupulous man who runs a migrant camp called Angel City.

Things go from bad to worse for the Teeters as unexpected fees for getting the job are added to high rent for a tiny, nasty room and big food costs for what amounts to left over produce cooked and given to them for dinner every night turn their job and hopes into a situation of indentured servitude. The camp is inside a high fence and locked at all times. No one can leave or go anywhere except the nearby store where they are taken by bus and brought back or the fields where they start picking by dawn every day. There is no way out and most workers soon wind up broken in spirit and without hope of any other way of life. Those that revolt, are beaten senseless and even killed and dumped in the swamp by the hired goons that run the camp. Things continue to worsen in quite terrible ways for the family.

If this sounds melodramatic and unlikely, you'll be surprised to learn that there was a lot of this kind of treatment of migrant workers in the camps right up through the '70s. Smith actually went and lived undercover in a migrant camp in order to research this book. Though conditions have improved a lot since then, there may still be a lot substandard housing and questionable treatment of workers, largely migrants, who can not afford to complain.
​
Readers will care about the Teeters and mourn their losses, both physical and spiritual and hope that there is some way out for them by the last page.
The book paints a dark picture of the agricultural industry of south Florida and will make the reader wonder just who picked those tomatoes or that corn the next time they are wandering the nice clean aisles of their neighborhood supermarket.


---
​© Copyright 2017: text Sue Harrison; photos Sue Harrison for MyOldFlorida.com.