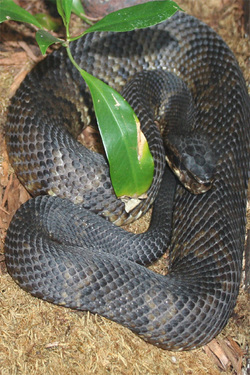 Many years after the cottonmouth in the creek incident that happened when I was a kid I had another run in with one. I had been living up north and returned to Florida for the winter and was staying in Gainesville.

I had a leather shop on Cape Cod and decided to open one for a few months in Gainesville figuring I could make some cash with all those college students. Well, I broke all three rules of "location, location, location," and rented a space in a little strip mall on out beyond the car places off Main Street.

The place was too big so I put up an 8-foot wall down the middle and rented the other side to an Asian grocery. To get my license I had to be inspected and the town told me I couldn't build a wall without a building permit but I assured them I had in fact built the wall despite the lack of permit and the Japanese folks were quite happy over on their side. After some head scratching they gave me a permit for a temporary wall with the promise that it would be removed when I left in six months and the Japanese people took over the whole space.

Speaking of permits, because I had leather dye I also had to have a metal fireproof cabinet to keep it in. Since I had already built a wooden cabinet I just went to a local newspaper and got some of their old metal printing sheets (pages in pre-computer newspaper days were printed from thin metal plates and rollers) and wrapped them around the cabinet. More head scratching and I got my permit for that, too.

I did not make much money, doubt if I covered the rent but I did have fun.

While I was in Gainesville that winter I rented a funky doublewide sitting on a couple of acres north of town about a mile off of 441. There was a creek running through part of the lot and plenty of woods. Apparently the previous renter must have been in the pot business because I found a bunch of old aquariums out in the woods, some with a few small pot plants still growing in them.

One day when I was out walking I saw a really big cottonmouth down in the creek trying to eat a good-sized dead catfish. The catfish was stiff and its side fins with nasty spines in them were sticking straight out. The snake would start with the tail of the fish and work his way up to those spines but he could not get them in his mouth. So he'd work back down off the fish and then angle around and start from the head. No luck.

That's where I left him, chewing on the dead catfish, but I got to thinking he was pretty big and close to the trailer and my dog liked to explore. So I called Fish and Wildlife and they sent a very nice guy out who caught the snake and was going to turn him loose further away from people. The guy warned me that moccasins are very territorial when they have babies and are likely to be aggressive in ways other snakes are not.

Shortly after he left I went back to the creek and unbelievably there was another one, even bigger than the first. I called the Fish and Wildlife guy back and he came over for the second snake. He took his pole with a looped rope on the end and went down in the creek bed and nabbed this one too. The snake was a good five feet, maybe a little more and fat, as big around as his forearm.

"This is one hellacious cottonmouth," the guy said as he dropped the moccasin into a container in the back of his official pick up. "Call me if you find anymore," he said as he bounced down my heavily rutted sand driveway.

Luckily I saw no more cottonmouths and before long the winter ended and I headed back north missing Gainesville and sand roads and shadowy lives lived on the edge of town even before the city limit sign disappeared in my rearview mirror.