Coral Castle — an impossible feat, one stone at a time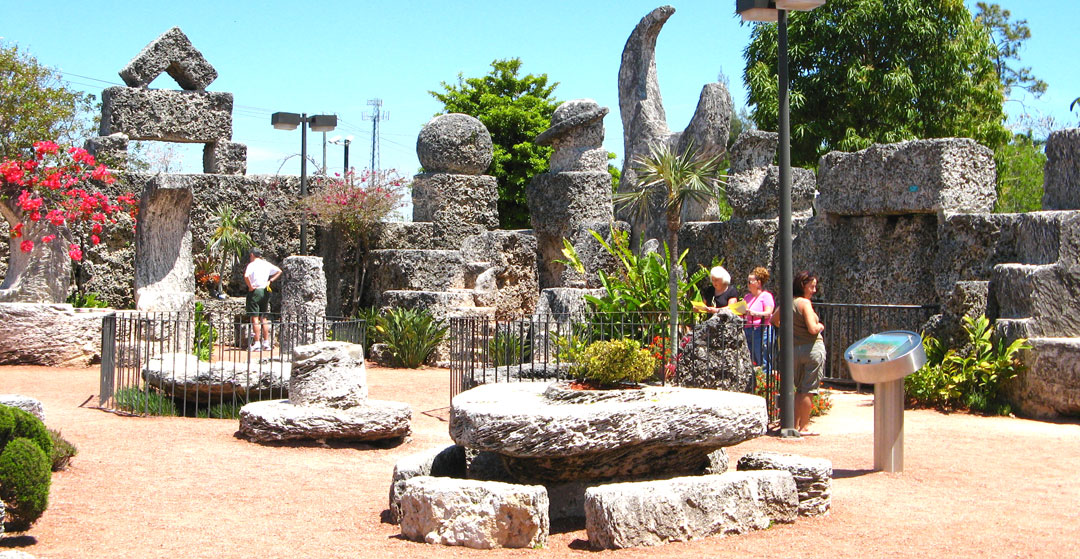 Just south of Miami on US 1 is

Coral Castle

, 1100 tons of coral excavated and carved by hand. It is the product of one man's labor and imagination or possibly obsession.

Edward Leedskalnin from Latvia was by any standard a small man. He barely reached five feet in height and weighed 100 pounds, but what he lacked in stature he made up in his ability to do the nearly impossible — create his own world out of massive pieces of coral dug and carved by hand. His single-minded vision puts him squarely in Old Florida lore of yet another person come to manifest a dream no matter how unlikely he was to succeed or what others thought.

From 1923 to 1951 shortly before his death he worked on his castle. Each four-foot wide section of the wall is eight feet tall and three feet thick, weighing 13,000 pounds. The spaces between sections were filled tightly with smaller rocks. Other sections are even larger, the biggest weighs 60,000.

Why did he do it? Was it was all a response to being jilted by his 16 year-old fiancé the day before their wedding? Ed was 26 at the time and devastated when his "Sweet Sixteen" (Agnes Scuffs) called it off. He left Latvia and went to America where he wandered from Canada to Texas and took odd jobs before buying an acre of land for $12 in Florida City (ten miles south of current Coral Castle location). Crushed by his broken heart he turned to making a world he could control from the largest piece to the smallest detail.

Working with his wiles, a fourth grade education and a good understanding of leverage (he claimed to understand how the pyramids were built) he used simple tools like blocks and tackle to build a "castle" that had everything including the moon and stars. He made 1000 pound chairs, tables, pools, a sundial accurate within two minutes year-round, living quarters, walls, staircases and even a geographically accurate depiction of the state of Florida that became to top of a giant table.

Towering over the walls are giant crescent moons and even Saturn with its rings, all made of coral.

There are two gates, one weighing three tons, the other nine tons. Amazingly, the nine-ton gate is so well balanced and situated on a rod near the center that it can be opened with one finger.

There is a "telescope" lined up perfectly with the North Star and reading chairs arranged so the sun would always be behind the reader's shoulder any time of day depending on the chosen chair.

The claim is he had no power tools to get the tons of coral out of the ground, tease the massive pieces into their new shapes or place them in the castle. He may have used an old Model T motor to turn a shaft but that would have given him limited help. No one ever saw him doing any of the work. And to add to the mystery, as Florida City grew around him he felt crowded and under cover of darkness managed to move every part of the castle further north to its current location. Somehow he got the pieces on a truck by lantern light, moved them and unloaded them. How? Again, nobody knows.

He was an enigmatic and private man in his lifetime but would take people on tours if they followed hia direction on the gate to "ring twice." A single ring or more than two rings did not get an answer from Ed or a tour.

He never forgot Sweet Sixteen and possibly never gave up the idea that she might appear to take her place in his life. If she did, she would have found he had created a special "repentance corner" for her to go to when she displeased him. Maybe it's a good thing she never came.

After his death in 1951 a nephew inherited the castle and two years later when he died a couple from Illinois became the owners. The castle has been operated as a roadside attraction since then.

Over the years the castle has been used in numerous photo shoots and a couple of movies including the B- movie, Wild Women of Wongo. In 1984 it was added to the National Register of Historic Places.

Located at 28655 South Dixie Highway in Homestead, it is open 8 am to 6 pm, 7 days a week. Admission is $15 adults, $12 seniors, $7 ages 7-12 and free if under 7.
© Copyright 2012: text Sue Harrison; photos Sue Harrison & Lee Brock for MyOldFlorida.com.


---
---