Bob Hughes: resurrecting the past, one tree at a time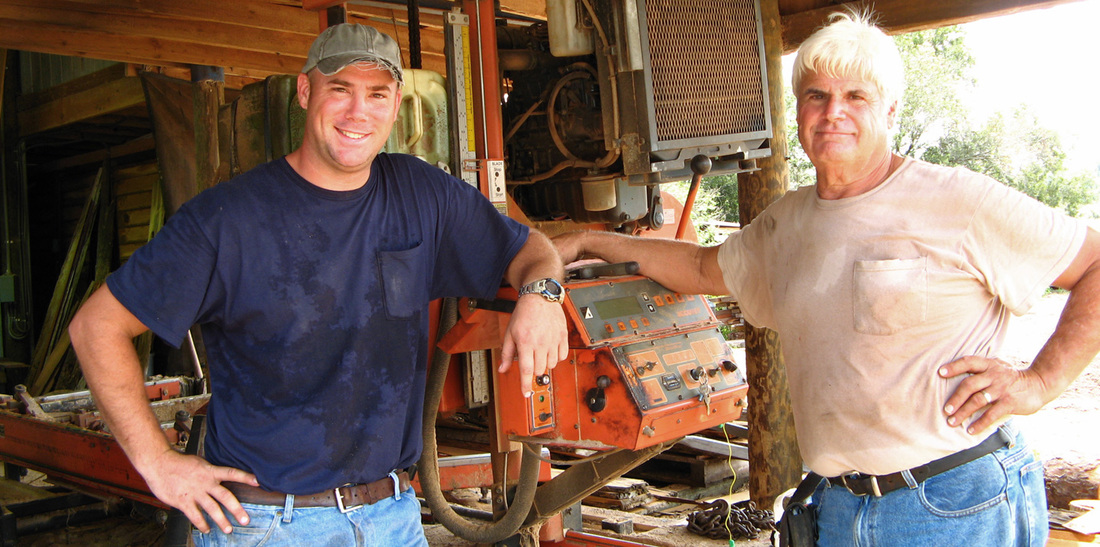 Tim and Bob Hughes run a sawmill that supplies people looking for special Florida wood to build everything from barns to bars.
Bob Hughes doesn't salvage, he doesn't harvest, he rescues wood.

Bob is a throwback to the days when people treated everything as if it was valuable because it was. In the Old Florida days before our disposable lifestyle people made do and were creative in turning one thing into another — like making a flour sack into a dress.

Bob is a third generation Floridian from Miami now living in Geneva. He worked for Florida Power and Light for 27 years but woodworking was always his passion.

("When I die, just put sawdust on me," he says.)

He went from buying lumber to milling it himself. Before long people found him and wanted to buy his wood. Since then it's been nonstop. To paraphrase a movie phrase, if they want to build it, they will come.

In addition to his sawmill he opened The Ole General Store in Geneva (open by appointment and whimsy) where he sells wood slabs in the back and unusual items made out of wood in the front. There are pieces that are elegantly finished like the jewelry boxes by Jay Norman who is legally blind and others that look as if the pieces are exploding from the wood into the world like the gorgeous fish that end in a swirl of raw wood.

The back room of the store where the slabs are stored smells warm and rich and it's hard not to run your hands over every piece you see.

There's African mahogany that was rescued from the former Roebling Estate — now part of the Archbold Research Center near Lake Placid. When the research center was getting rid of all non-native plants. They were cutting and burning but Bob rescued his share.

Some slabs are marked RR, which stands for river recovered. During the logging era when the giant cypress trees of Florida were being cut and dragged through the swamp or floated down rivers some were lost and are still settled into the bottom mud, waiting.

His biggest rescue job, seven semi trucks full, was at the Lee Ranch cutting eastern red cedar. For four months he was there every day cutting and hauling wood. "It's like the old saying, how do you eat an elephant? One bite at a time," he says.

Most often Bob and his son Tim are at the sawmill where conversation is hard to come by because cars keep turning in the driveway and each one spits out someone on a mission. Everyone is looking for something special and usually, Bob has it.

Peter Mertens, comes in with a rented truck hauling two massive chunks of tree trunk from Apopka. He is a sculptor and can already see what that tree trunk will become with Bob's help. Another guy, Glenn Comeau, has driven four hours to get a special wood make a bar in a new restaurant he's opening in Englewood. And a woman recently drove down from Panama City to get some nice heart cypress. David Lloyd from north Oveido pulls in with a flatbed trailer. He bought an old barn in Jacksonville, tore it down, brought it here and is rebuilding it. He got beams from Bob and needs one retrimmed a bit. No problem.

"I had a lady come in who had lost all her trees in Hurricane Charlie. She said, Bob, what can I do with these trees? She was devastated. We got it cut and dried and now the flooring in her home used to grow in the front yard. "

The sawmill is a covered shed with a big saw at one end. There are neatly wound lengths of rope, dozens of chainsaw chains and all sorts of tree handling equipment clean and ready to go.

When new trees arrive, Bob handles his little forklift like Yo Yo Ma handles his cello. He coaxes the giant tree out of Peter's rental truck and later picks up David's barn beam and eases it over to the saw. With a couple of come-alongs and leverage the huge beam is gently lined up and then trimmed in one smooth motion.

Bob uses a biological wood drier that incorporates moisture wicking poplar walls and heat to turn green wood into ready in three months.

When the 3500 year-old Senator —

read more about the Senator

— the oldest and biggest remaining pond cypress in the state was toppled by a crack-smoking girl who hid inside and lit up and accidentally set the tree on fire in January of 2012, Bob stepped in to help. The charred tree lying on its side in the park looked like a wreck but Bob told the historic commission, "I'm looking at the ugly but I know what's inside," he says.

Bob is one of a handful of artisans given parts of the downed tree and those pieces are being turned into beautiful memorials to the former biggest pond cypress in the world.

The woods around here are not only full of trees they are full of artists and artisans Bob says. Around Geneva down those little roads far away from the buzz of SR46 or the expressways are potters, quilters, artists, blacksmiths and woodworkers. Something seems to draw them to the area. He wants to put together a map of how to reach all of the studios and get everyone to agree to open theirs one day a month. Of course he does, he's the kind of man always sizing up what's around him and seeing what it could be.

Check out Bob's shop, the Ole General Store at 320 Avenue C in Geneva just south of Sanford off of SR46. Visit his website at www.olegeneralstore.com.
© Copyright 2014: text Sue Harrison; photos Sue Harrison & Lee Brock for MyOldFlorida.com.


---
---