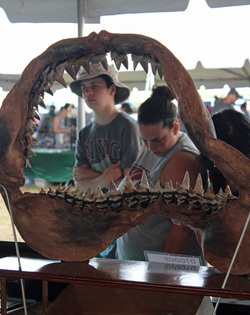 Venice, Florida touts itself as the shark tooth capital of the world and there have certainly been plenty of big shark teeth pulled from the offshore waters, nearby rivers and even the beaches. People who collect the big teeth, mainly those of the extinct megalodon (big as a bus and mouth full of 7-inch teeth) are almost cult-like in their devotions to finding these fossil treasures and the annual Venice Shark Tooth Festival held in April each year is the place to go to see what's been found and for sale.

This year's festival (23rd annual) just wrapped up (April 10-12) and as in previous years it had something for nearly everyone from the most serious collector to the complete newbie and even those who have no interest in sharks at all.

The festival is held on the grounds of the airport in Venice with plenty of free parking and a broad area for exhibitions, vendors, food, music and fun. A mere three bucks gets you in and kids under 12 are free. Once inside the gate you may opt to go listen to the nice lineup of bands playing on a stage at the far end or head directly to the food section. Lemonade was the drink of choice on Saturday with lines all day but the beer tent stayed busy too. BBQ was cooking in big smokers and there were food stands with fish sandwiches, funnel cakes dripping glaze, marinated lamb, seafood sampler plates, jambalaya, gator nuggets and a lot more.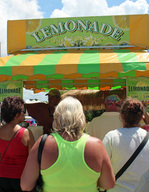 Vendors offered all kinds of jewelry, clothes, artwork and fine décor for your home like those flattened beer bottles calling out to be cheese platters. My friend and fellow fossil hunter Ken Follmann introduced his line of sculpture made of broken shark teeth (Bite Me Fossil Sculpture) this year.

You could get a Tiki statue, some antique-looking wall signs made of battered metal and lights proclaiming your own "Bar" or pick up a cap or tee shirt showing off your interest in all things shark tooth-ish. There was a dig pit where kids could find their own shark teeth and Mote Marine Lab had their big mobile live exhibition truck on site with open "touch me" tanks of sealife.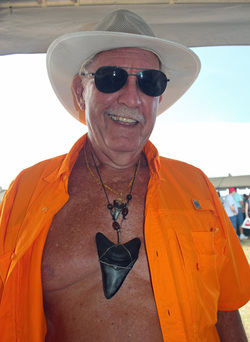 But the big attraction was housed under three large tents where the local and national luminaries in the collection of shark teeth and other fossils showed their best stuff. The crowds surged like floodwaters around the displays that ranged from highly polished stone boxes made from ammonite-rich rocks from Morocco to large megalodon teeth just out of the water off Venice this week.

From the local scene Debra Powell who runs big Facebook fossil groups and fossil sales and Bill Eberlein (the diver that always brings home the big one) were on hand and Frank Garcia, granddaddy (in experience not so much age) of Florida Fossil Collectors, showed up for a visit though he has recently moved out west.

The tables groaned under the weight of true fossil treasure and there were enough sighs from people wishing they could take it all home to make a breeze to cool off even the hottest part of the day. But there were also plenty of souvenir type things including lots of very inexpensive necklaces with real shark teeth, key rings and replicas of the big teeth that would fool everyone but an expert. The megalodons and other sharks were well represented but the broad range of fossils found in Florida from mastodons and mammoths, bison and three-toed tiny horses to extinct whales, dugongs and other amazing animals were also on display. Reaching further afield there were plenty of ammonites and crinoids and even dinosaurs.

The cars kept coming all day and judging from the faces of folks wandering around, lemonade in one hand, bag of goodies in the other this year's festival was one of the best.
Check out next year's festival and get info on location and even how to volunteer at
www.sharkstoothfest.com
. And if you come to the area give your own luck a try. Head for any of the local beaches (Venice, Casperson, Nokomis, Manasota) and with a little patience searching through the washed up shells you will come home with your own shark teeth that are hundreds of thousands to millions of years old.
© Copyright 2015: text Sue Harrison; photos Sue Harrison and Lee Brock for MyOldFlorida.com.