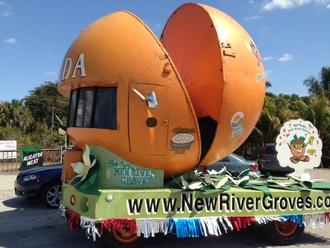 The Big Orange is kind of like the Weinermobile but different.
Started in 1964,
Bob Roth's New River Groves
roadside stand in Davie is famous for several things including the big orange that is often seen in the parking lot along busy Griffin Road as it leads away from Fort Lauderdale and toward the Everglades. The big oranges at Roth's are both vehicles and a drink stand that travels around. There are a couple of them and they are part of the Old Florida feeling with their 50 years of squeezing and pleasing.
Roth's is one of the places you can count on getting the delicious honeybell orange during the short span of time it's available once a year. Of course there are plenty of other orange, grapefruit and tangerine varieties for sale all packed up in half-bushel paper sacks or the familiar orange mesh bags that hold a full bushel.
Inside there are sandwiches and coffee, fresh juice, snacks, boiled peanuts always hot and ready, a batch of jams and jellies, other condiments and a cooler full of plain white boxes full of promise.
There's gator meat in the cooler in those hand-lettered boxes and Roth's well known pies including the key lime pie based on a recipe from Bob's late wife Terry who died in 2002. (You can get Terry's pies in a number of other places including nearby Flamingo Gardens, another must see.)
Although there is a lot of discussion about crust and toppings, everyone agrees key lime pie is pale yellow, never green. The ingredients are few but that still allows for plenty of wiggle room when making this simple but exquisite pie.
Terry's pie uses the more traditional graham cracker crumb crust as opposed to the baked pastry shell. And her pie features whipped cream topping while an equal number of pie makers tend to meringue. At Roth's there is also a key lime pie with orange or mango flavor added.
Their pie is so famous that it traveled to the capitol in Tallahassee in 1994 when the legislature was pondering that most serious of state decisions — which pie to name as the state pie. Key lime won in a squeaker over pecan pie and you have to wonder if it wasn't Terry and her tart-sweet concoction that sealed the deal once the legislators had a taste.
People have been stopping by Roth's for almost 50 years for a bag of sunshine and now a piece of vote-swaying history.