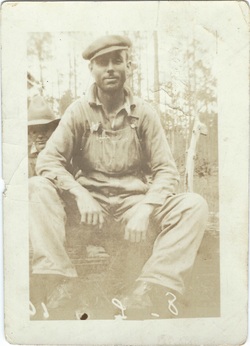 Riding the Woods with Poppa

One of my special treats when I would visit my grandparents in Gulf Hammock back in the '50s is that my grandfather would take me to work with him once in the while. He worked for Pat & Mac (Patterson McInnis Lumber Company) out in the woods. He had a company jeep, probably a WWII surplus vehicle with a canvas top and hard seats.

Some days he would drive the firebreaks and make sure they didn't need to get plowed again. Other days he'd drive through the piney woods and mark trees to be slashed for turpentine. He was always watching out for fire and keeping an eye on men who were camping so they could hunt or fish in the woods.

He took lunch in one of those domed-top metal lunchboxes with a thermos in the top and a sandwich and a sweet in the bottom. He always kept a fishing rod and tackle box in the back of the jeep because you just never know when the perfect little fishing hole will appear.

The woods were honeycombed with little creeks, all trying to find their way to the Waccasassa River or the Gulf of Mexico like hungry dogs scrambling to get scraps thrown out the back door. Mostly they were shallow and clear as glass, fed by springs out in the swamp. But there were places where they deepened up into tannic-brown pools with plenty of lily pads where a fish could hide on a hot day.

Mostly he drove and looked and paid attention to everything he saw in nature. He could track and recognize all kinds of signs that most people would never see.

So, a day in the woods with him was special. It meant getting up well before dawn. Granny was up before either of us, getting the woodstove hot, making coffee and cooking grits and eggs for our breakfast. She would have packed our lunch too, usually sandwiches or maybe a piece of fried chicken left over from supper the night before.

By the time we got in the jeep there were tinges of red in the sky lining the bottom of clouds or on cloudless mornings, just making a smudge across the horizon.

We started out with headlights on and bumped our way out of town and eased onto a sand road you could have missed if you didn't know it was there. By the time the sun was up good we were deep in the woods.

Sometimes he'd sing a bit, usually church hymns or old time favorites. He liked to tell old-fashioned jokes that were usually plays on words. They were the kind you told when you were a kid and then hit the other kid in the ribs with your elbow and asked, "Get it? Did you get it?"

One of my favorite jokes was old wood eye. There was this boy and he had lost an eye down at the mill. Someone carved him a nice wooden eye and he wore it all the time but he was very sensitive and hated when anyone made notice of it. There was a gal in town who had lost most of her hair through some unfortunate way that no one was very clear about. She had a wig that she wore but it was not very good and tended to slide to one side if she bounced around much. Everyone knew about her wig. They both turned up at the Friday dance and he watched her a long time before he got up the nerve to ask her to dance. He took a deep breath, crossed the floor and asked, "Would you like to dance?" She enthusiastically replied, "Would I?" Shocked, he immediately replied, "Baldy, baldy, baldy!" and never went to another dance again.

Poppa seemed simple in his ways and yet he knew so many things. He could plant anything and get it to grow. He built two houses that I know of from scratch and there may have been others. He could get home from work and walk down to the creek with his fishing rod and be home in less than an hour with enough fish to feed everybody. He could hunt with precision. He probably enjoyed it but I don't believe he ever hunted just for the fun of killing something alone, he hunted to put meat on the table.

I remember you always had to be careful when eating squirrel. He hunted those with buckshot and no matter how well you cleaned them there was likely to be a couple of shot in there somewhere waiting to surprise you when you bit down hard.

He gave his work its full due and at the end of his workday he gave his family and his home all his attention. He was never too tired to take a walk with you and he did not miss church on Sunday.