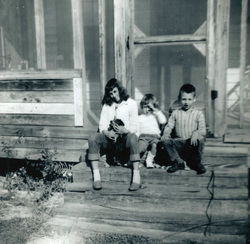 This morning the rain is falling hard and reminds me of weekends when I was a kid and the skies would seemingly open and stay that way. In Florida the raindrops are big and when they hit you hear them. They sound like a drum when they pelt the thick green leaves of the plants and when I was young, the sound of rain on the metal roof was an unremitting din. In fact you could judge, moment-to-moment, what the skies were doing even from deep inside the house by the rising and falling level of sound. There was an element of speed too as hundreds of falling drops turned into thousands and then tens of thousands pounding down in a few seconds.

And though Florida is a big sand pile on top of porous limestone sometimes the water falls too fast to soak up and instantly every low spot in roads, in ditches, in yards becomes pools, ponds, mini lakes, creeks. If there is somewhere lower to go, the water rushes away in its new streambed. If not, it sits, making an unlikely pond with grass showing through on the bottom.

If the water stands for a few days there are suddenly minnows and tadpoles in every roadside ditch though none are connected to streams or lakes where these little fish could have been before the rains.

If you run outside right after the rain the puddles are cold in stark contrast to the brooding heat of the day. But the ground is so constantly heated by the sun that in minutes the water is warm.

On days with quick thunderstorms popping up, which is exactly what they do — pop up out of clouds that suddenly come building from the horizon, turn black, dump rain and sweep by like a car speeding to an important destination somewhere else, you might wait the rain out. Standing on the porch one foot tucked up behind the other knee, you might look out gauging when it would pass and when it did be okay to run down the stairs into the yard splashing water all the way to the street as you headed for a friends house, or just a romp in the woods.

If the rain settled down, like that speeding car had got a flat and was stuck waiting for the guy at the gas station to get around to showing up, it would be time to hunker down and find some inside worlds to live in.

I liked to take the rocking chairs on the porch at my grandparent's house in Gulf Hammock and lay them on their sides to make a three-sided box and then cover them with sheets that granny let me use for my "fort." I could play there for hours while the rain droned on outside. Or I might turn the porch into a boat and be making my way slowly down the Amazon. Then, when the rain would stop I'd put on my flippers and mask and walk down the dive ramp (front porch steps) into the river where I would look for treasure while trying to avoid the piranha that were everywhere.

Swimming was a little tricky since the real water was only about two inches deep. But, if I was careful I could walk across the yard wearing the flippers without falling. I'd bend at the waist parallel with the ground and appear to pull myself along with long strokes of my arms while I turned my head side to side looking for the hidden treasure.

I could make a sound exactly like a scuba expelling air and I did. I can still make that sound and sometimes do just for fun.

Of course I had a knife to defend myself with and sometimes a spear gun made from a sharpened palmetto frond. And if I didn't feel like diving I'd just fish from the deck of the "boat," casting lures into the yard in hopes of snagging anything that I could pretend was a fish.

I fought some pretty big fish from that porch and in retrospect am surprised my grandfather never minded that I used his rod and nice lures to hook limbs and pieces of wood to drag across the yard.

I guess he believed I might catch a dream and of course, he was right.