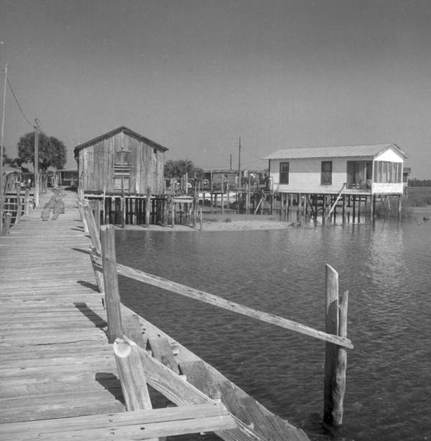 At one time houses stood in the water at Jug Island. Photo: Florida State Archives.
Towering three feet above mean sea level Taylor County's Jug Island was once home to a bunch of rickety houses on stilts, some out over the water, some on land. We vacationed there a few times, if you can call a weekend a vacation.

For me, it was the best possible place. It was on the water, heck, in the water and it never got over my head so I was allowed to go in and out as I pleased.

My recollection is of parking on the shore and wading out the house with our weekend supplies. The sand bottom made the water fairly glow somewhere between gold and green. Occasionally there were batches of sea grass but I avoided those 'cause who knows what might be in there.

Each little house had a small porch and wooden steps leading down into the water. It must have been summer because Cracker Floridians like us didn't go to the beach in the winter then. The water was warm, always. At low tide it was about knee deep and at high tide above my waist.

Although looking at pictures tells me it was really humble, to me it was a shining palace. All I cared about was that it was an adventure like some crazy wonderful thing I had made up except it was real.

I always had a good imagination and frequently turned mundane places into exotics. Like I might turn my grandparents' screened front porch into an old chugging boat ambling up the Amazon. Or a tree fort might turn into a real fort with hostile Indians milling below, making me hold my breath until I got a good shot.

I've been on wild horses you might have thought were 55 gallon drums laying on their sides and in stagecoaches that strongly resembled the backseat of cars.

But Jug Island, it was real.

Once when we were there the horseshoe crabs were in. I guess they were there to mate but I thought of them as dangerous sea monsters intent on killing me. Fortunately they moved rather slowly and I was able to drift over them while pretending not to see them and then suddenly discover them and, knife clinched between my teeth, swim away to safety. I don't think they ever noticed me.

We usually went fishing and had fresh fish, grits and hushpuppies to eat while the sun crawled into bed at the far reaches of the Gulf of Mexico. I felt my skin get tight from the salt and brown from the hours of imaginary adventure.

A brief entry in a Taylor County historical site says Henry and Headie Towles Hagan bought the island and built those houses to rent out. The sponge divers up from Tarpon Springs sometimes used it as a port as did some fishermen and people from nearby Central Florida.

Jug Island is located on that nearly desolate stretch of Gulf coast between Steinhatchee and Dekle Beach. There are not many ways to get there. It is definitely an end of the road place. And like most end of the road spots in the Sunshine State, if it doesn't yell Old Florida, it certainly whispers it in the wind.

Years ago I went looking for Jug Island again and all I found was a fancy gate blocking the road. Somebody in Dekle told me the island had been sold to a doctor who made it his weekend getaway.

In my mind, whatever he built behind that pretty gate will never match what used to be. But hopefully he's got some kids and they are out there creating adventures that go way beyond new houses or the blocked off road that no longer leads to the sea.


When I was growing up this wall didn't exist and you could drive down to the water and the ramshackle houses.