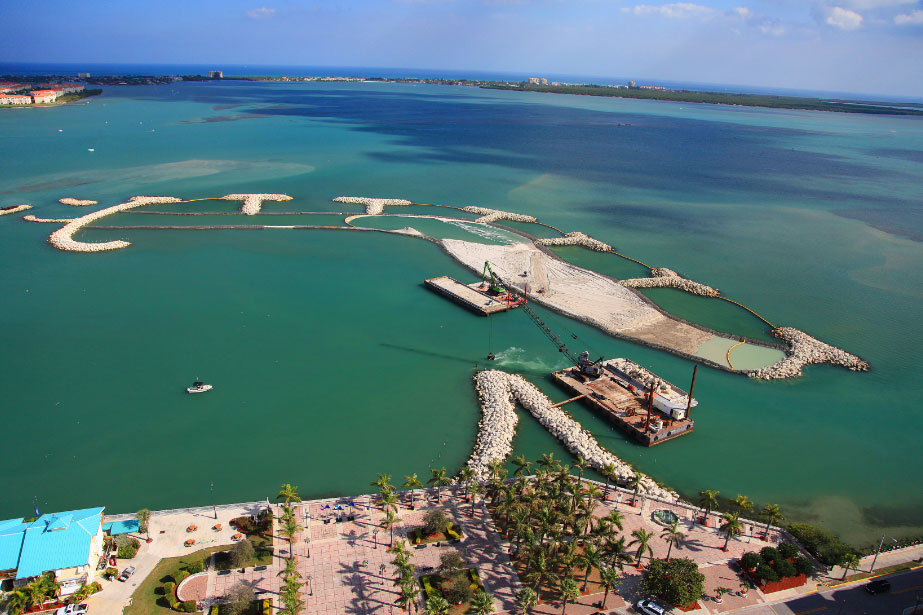 Ft. Pierce is just completing a group of manmade islands that will protect the harbor and create fish and bird habitat.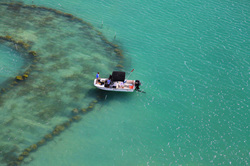 Oyster reefs are part of the Ft. Pierce Project.
I recently met a cool biologist named Benny Luedike who works for the state DEP and he sent me some photos of a project in Ft. Pierce within the Indian River Lagoon to create a series "barrier islands" to protect the city operated harbor.

Humans have tried to protect what they consider theirs for as long as they could figure out a way to do so but they didn't always think about unintended consequences. We built dams and caused downstream marshes and wetlands and their incubator essence to be lost. We took down forests to grow a better cash crop and threatened the diversity of our planet. In Florida we drained the Everglades to grow beans and tomatoes in the verdant muck and though we have changed direction on the wisdom of that decision, much of our food (and OMG the sod farms stretch out forever) still comes from large farms ringing Okeechobee. Don't forget big sugar either.

We hailed DDT as the miracle that would let us feed ourselves better and cheaper. Turned out to cause cancer and nearly killed off the bald eagles.

Florida has busy sucking as much water out of the ground as possible for golf courses and developments or to sell as "spring water" and all the while our aquifer has been dropping lower until our fabulous springs are being threatened.

As a nation and a state we are finally taking a harder look at what we want to do and are trying to make sure that, like a doctor, we first do no harm. That's a big part of what Benny does, he reviews proposed projects to see if they can be done without causing harm whether unintended or not.

In this case, the Ft. Pierce barrier island proposal was subjected to a lot scrutiny to make sure it would not cause erosion problems further down the shore or that it would cause the seagrass (another big incubator) to silt up and disappear. FEMA, the organization that provided partial funding, said an ecological component had to be included in any harbor protection plans. What is being created seems like an elegant solution.

The 11 acres of islands will not only protect the harbor by breaking up incoming tidal action and wind driven waves, it will create a new series of habitats that will include an island that's perfect as a shorebird nesting habitat, a mangrove habitat and oyster reefs. This protection will then allow the marina destroyed in the '04-'05 hurricanes to be rebuilt.

One part of me looks at parks and restored lands and thinks, but this isn't nature in the raw, much the same way some cute historic towns are really not Old Florida. And it's not. But neither is it the Disneyfication (no insult meant to mouse and co.) of a natural area. It is the nurturing of an area to create something that nature itself could have and might have created given enough time and protected from enough detrimental human action.

All over the state nonprofit groups and grassroots organizations are working hard with government agencies on the nurturing side of things. We are seeing increased protections for our waterways and shores and coming to new understandings about land use. Turns out cattle ranches are pretty good for our prairie-like lands in mid state. Who knew?

So the next time you paddle around the bend in a little river and feel like you are the first human to ever see this piece of glorious land and water give a little smile and know you probably are not. And you probably wouldn't have had that experience if a lot of other dedicated folks hadn't worked to keep it just like that. People like Benny. People like you.