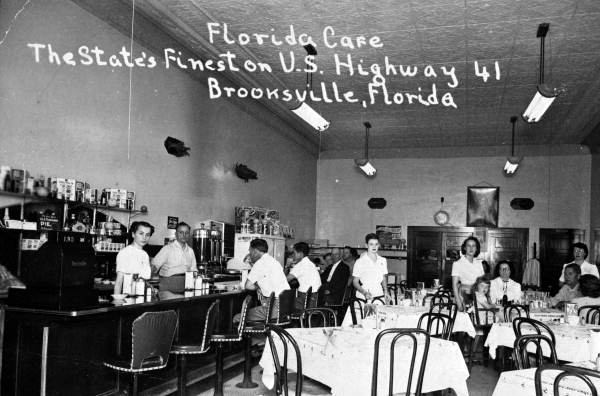 This is not my familiy's cafe but it is very similar and from the same era so you can get a sense of what it was like. Photo courtesy Florida State Archives.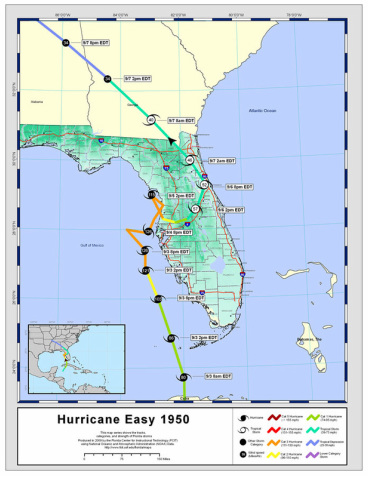 In September of 1950 when I was three and a half years old a hurricane blew in from the Gulf of Mexico and slammed into the Florida coast around Cedar Key. With the unlikely name Hurricane Easy the storm broke national records for most rainfall (38.7 inches in 24 hours at Yankeetown) that stood for years and is still the Florida record.

My family was right in the middle of things.

The year of the storm my mom and dad had opened a café in Chiefland, Fla. they called the City Grill. It was on US 19 where it came through the center of town. There were sidewalks in front of the block-long strip of stores that nestled up tight to either side of US 19. On the opposite side of the street my father's father ran a hardware store.

The City Grill was open three meals a day. Breakfast and lunch found a lot of locals sitting at the counter or hunched over tables but for dinner most locals were at home and it was folks traveling north and south on US 19 that stopped to eat. The jukebox stood ready to take your nickels, and coffee was a dime.

Things were going pretty well as summer slipped out of August and into September. In those days there was not the complicated early warning system we now have for big storms and Easy crept up the coast with little initial warning.

It dumped torrents of rain on Yankeetown south of Gulf Hammock and on the way up caused the tide in Tampa Bay to rise by 6.5 feet flooding north Tampa with two feet of water.

When the warnings were sounded in Cedar Key (situated 29 miles southwest of Chiefland) some people left and others decided to stick it out. The storm swept into Cedar Key with 125 mph winds and then made a big counter-clockwise loop out into the Gulf, all the while gathering moisture, dumping rain and putting Cedar Key in a siege-like state of enduring sustained winds of over 100mph for nine and a half endless hours.

Those who remained in town huddled in the high school. Out of 200 buildings in Cedar Key, 150 lost their roofs and a full 90% were damaged. All 100 of the boats in the town's fishing fleet were destroyed.

My father was in Gainesville when it all started and my mother was in Chiefland running the café. I was in Gulf Hammock in a house my grandfather built down a sand road back in the woods. We didn't know what was coming.

My mother says that as the storm really kicked in people swarmed from Cedar Key and the many homesteads out in the swamps and woods and along the Suwannee River into Chiefland, the nearest town looking for shelter and food. My father drove down from Gainesville and they kept the café open and fed everyone who pushed through the door and out of the rain and wind. After a while they stopped giving people checks for their meals and just kept cooking and putting out hot food and hotter coffee while the winds howled outside.

I don't know what everyone knew or when. I was just a small child but I do remember being in that house and the sound of the wind thrashing the trees and scratching at the house looking for a way in. I was scared but I was also curious. I later heard someone say that the wind was so strong that it took a pine needle and buried it four inches deep in a tree. It was such a vivid statement that to this day I believe I saw that very thing though it's likely I did not.

What I do know is that at the height of the storm, when it had made its loop and hit Cedar Key for the second time and started inland that my father came for us.

He drove down US 19, dodging tree limbs on the road, the rain almost horizontal and the night so black that everything wet shone like silver. When he got to Otter Creek, midway between Chiefland and Gulf Hammcok, the State Police had closed the road because of flooding and the danger of downed trees and power lines that followed the road. (Three people died in Easy, all from electrocution from downed lines.)

"Sorry," the State Policeman in his slicker said, "you can't go through."

My father told him. "My little girl and my wife's parents are down there. I'm going to get them."

The police must have pulled the barricade aside because he did come and get us. We bundled into his car and he drove us back to Chiefland through the furious night.

They kept the café open until no more people came in looking for help.

The next day, like most days after hurricanes, was sunny and despite the damage all around us it was almost like it never happened.

The only thing I know for sure is that for the rest of my life I always remembered that my father pushed past the police and drove through the crazy black night and storm to save me. That's what fathers do.