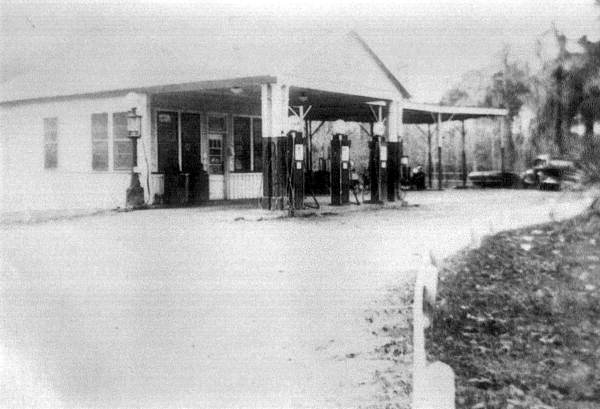 This old gas station and store was in Cherry Lake, Florida. The one in Gulf Hammock was similar but sadly now long gone. Photo Courtesy Florida State Archives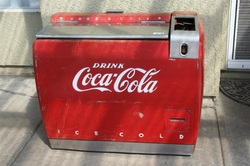 Old drink machines kept bottles cold in icy water.


Gulf Hammock is barely more than a wide spot in the road these days but it used to be a busy place as my mother tells it. It was strung out all over the woods when she was growing up and had more people and a mill that was owned by the Paterson-McInnis lumber company that ran the town. She remembers boardwalks snaking through the woods following one lane roads to houses tucked back from US 19, the hard road that ran north to south full of truckers and people in a hurry to get somewhere else.

Like any good company town there was a commissary that offered almost anything you might need including the post office that took up one corner of the big square building ringed with a porch on three sides. There were two other stores, Peek's and Gavin's, both small side-of-the-road mom and pop places with basic groceries, hard candy, ice cold drinks in a big square cooler filled with water so icy it would hurt your hand when you dug around for the coldest soda down in the bottom somewhere. On the side of the cooler box was the opener where you popped your soda's metal top off. There was a satisfying snap of a sound and the metal cap fell down among the other tops. I don't know what happened to them when they were cleaned out but I have seen bottle caps used like washers when nailing things together.

There was even ice cream and Popsicles. Well, what a choice. To have the small Dixie Cup of vanilla with its own little wooden spoon or the double barreled banana Popsicle. Whichever one you picked was bound to melt before you finished it in that heat. And even though you might want to linger and savor the cold and the flavors, a prudent person wouldn't.

Gavin's sold flour in 20-pound bags and also in smaller amounts from flour kept in a big barrel. They kept all the flour sacks, cotton with some sort of decorative print on it, and sold them to women who made clothes out of it. I had some flour sack outfits myself, mostly little shirts or shorts.

It was always a few degrees cooler in the store because of the refrigerated cases and the fact that they were smart enough to keep the windows and doors shut down against the heat of the day.

One of my favorite things was the knives for sale. There were pocket knives and every man had a good one that he took care of really well. They were cleaned and oiled and sharpened and considered essential. I really wanted one and as a tomboy was eventually given one.

It was easy to be a tomboy in those days, cute even, but I imagine it would not have been easy to be a little boy who wanted to do girl things. Years later as a teenager I lived next to a boy who played with dolls. His name was Jerry and I made fun of him like everybody else did. With years behind me of seeing how people are different and yet wonderfully valuable all over the spectrum of human experience I can only say one thing to him and nothing in my own defense. I'm so sorry, Jerry.