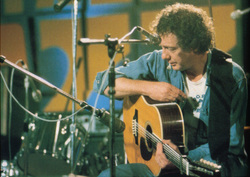 Fred Neil at Montreux Jazz Festival 1975.
Went out for an early morning appointment the other day and started wondering about people you see on the street at that hour. If somebody is walking with a shopping cart full of stuff and you can be pretty sure that person is homeless. But, lots of others are not so easily pegged. Still, that's a time of day when a lot of homeless folks are moving from their nighttime hideaways to their daytime hangout spots.

And that got me to thinking that when I was kid it was rare in north Florida to see a homeless person. There were a few hobos and on occasion some rootless soul that you just knew couldn't stay in one place but it seemed more a choice than a terrible circumstance. Those days someone would come up to the house and ask if you had any work and maybe they'd rake your yard or whatever you asked and you'd pay them with a meal served to them outside. They'd eat in the shade, say thank you ma'am, hand back your plate and be gone.

Today it's not only marginalized people who are out of the mainstream and into the subculture world of homelessness, whether through addiction, post traumatic stress or mental health issues, it's also families: moms, dads with kids or just moms or dads with kids. People are living in cars, sleeping in church parking lots and trying to keep clean and get the kids to school. This is definitely not the world I grew up in.

I moved to Miami when I got grown and before too long moved to New York City. About that time the movie Midnight Cowboy came out and I understood how someone might dream of getting out of the dirt and chaos and crime and head down south. Fred Neil — a boy who grew up in Florida and was a well known songwriter to other musicians but largely unknown to the public — gave us a song (Everybody's Talkin') that was used in that movie and performed by Harry Nilsson for a Grammy and I think it really sums up the allure.

"Everybody's talkin' at me/ I don't hear a word they're sayin'/ only the echoes of my mind… I'm going where the sun keeps shinin'/ through the pouring rain./ Going where the weather suits my clothes./ Banking off the northeast wind/ Sailing on a summer breeze,/ Skippin' over the ocean like a stone."

Fred Neil spent some time in New York too around the same time I got there. Bob Dylan played harmonica for him down on Bleeker Street, Fred did concerts with Joni Mitchell. Roy Orbison and the Jefferson Airplane recorded his songs but he's still largely unknown.

I was a folkie back in Miami and I knew who he was. Right before I moved north I went to see Fred in a coffee house in Coconut Grove. He came out, never said a word, sat on a stool and did a bunch of his songs. He didn't talk, didn't look up, just hung over his guitar and gave it to us. Then he stood up and walked off. I remember that night all these years later and remember that he sang about something just beyond your grasp, some bittersweet thing like weather that suits your clothes or the thought that something might change somehow.

Today, thinking about Fred Neil and all his music I looked him up on Google and found a fredneil.com website that lists all his records and lyrics, has a bunch of photos. It was put together by a web guru from the Netherlands who told me he was just a fan, like me, when I asked him about the site.

Fred went on to found the Dolphin Project on Earth Day in 1970 with a friend. That attracted a bunch of other people like a young Jimmy Buffet and brings to mind another classic Fred Neil song, The Dolphins.

"This old world may never change/The way it's been/And all the ways of war/Can't change it back again./I've been searching for the dolphins in the sea/And sometimes I wonder/Do you ever, think of me."

It was a great combination of the big issues like world peace put together with the very personal do you ever think of me. He stopped appearing or recording but remains a songwriter's writer. Plenty of folks like Stephen Stills name him as an influence and the Jefferson Airplane used to not only cover his Other Side of This Life but also dedicated a song to him at their concerts. And we are left with a handful of gravelly-voiced songs on LP now reissued on CD and the question, "sometimes I wonder, do you ever think of me?" I do.

Fred Neil died on Summerland Key in 2001.